Link To Us!
Anti Joke Chicken Meme Generator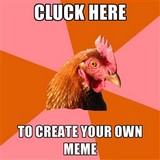 -OFFICIAL JOKE SITE-
Welcome To Why Did The Chicken Cross The Road?...
If you ever wondered why on earth the chicken crossed the
road in the first place, you've come to the right place!
Submit your own fowl jokes for a chance to have
them published right here on the main page!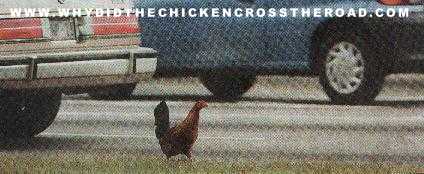 ---
~~ CHICKEN NEWSFLASH ~~
KFC closed more than 500 stores in the UK. Rumor has it, the chickens crossed the road. Who wouldn't?! Read More
The Burger King Chicken Fight web site ruffled some feathers with anti cock fighting groups and closed down.
Burger King's Subservient Chicken does whatever you tell it to do!
Ask the chicken to do something!
May 14th was National Dance Like a Chicken Day, did you miss it??!
Cluck Here For Chicken Dance Instructions
---
"Fowlest Jokes Of The Month"
Q: Why did the chicken run across the road?
A: There was a car coming.
Q: Why did the chicken cross the road halfway?
A: She wanted to lay it on the line.
Q: Why did the rubber chicken cross the road?
A: She wanted to stretch her legs.
Q: Why did the Roman chicken cross the road?
A: She was afraid someone would caesar!
Q: Why did the chicken cross the road?
A: To prove to the possum it could actually be done!

---
* Click Here For Fun With A Chicken Word Search *
---
"Three-Legged Chickens"


A man was driving along a freeway when he noticed a chicken running alongside his car. He was amazed to see the chicken keeping up with him, as he was doing 50 mph. He accelerated to 60, and the chicken stayed right next to him. He sped up to 75 mph, and the chicken passed him. The man noticed that the chicken had three legs. So he followed the chicken down a road and ended up at a farm. He got out of his car and saw that all the chickens had three legs. He asked the farmer, "What's up with these chickens?" The farmer said "Well, everybody likes chicken legs, so I bred a three-legged bird. I'm going to be a millionaire." The man asked him how they tasted. The farmer said, "Don't know, haven't caught one yet." (Molly - Ohio/USA)
---
~Joke Web Rings~
---
Leaving The Coop?
Take a minute to Tell a Friend! about us.
Why not bookmark this site for future visits?
Just press CTRL+D on your keyboard.
Yokes Of The Month Mailing List
Join Our Mailing List For A Monthly Feed Of Chicken Jokes!
---
Feathered Friends