Link To Us!
Anti Joke Chicken Meme Generator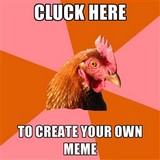 Create your own
Anti Joke Chicken Meme
What is a meme?
A meme on the web is quite literally an image or video that is shared between Internet users.

There are tons of different Internet memes but we at WhyDidTheChickenCrossTheRoad.com are quite partial to the anti-joke chicken meme for obvious reasons!

The anti joke chicken meme is an image of our favourite fowl (AKA chicken) who makes funny comments that are so unfunny, they're often hilarious. Examples are things like "What's yellow and smells like chicken? Answer: A chicken" or "Two chickens walk into a bar... and order drinks". Okay, do you get the idea? Not funny = Funny.

Check out some examples we created below then make your own meme with our handy dandy meme generator tool.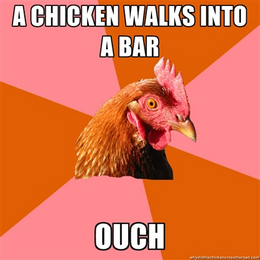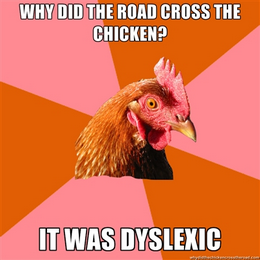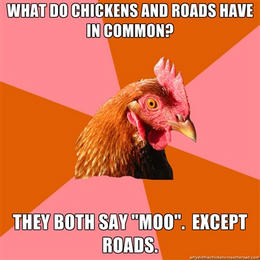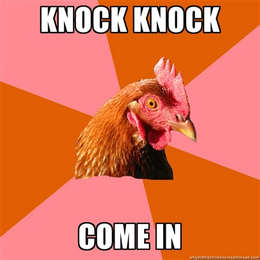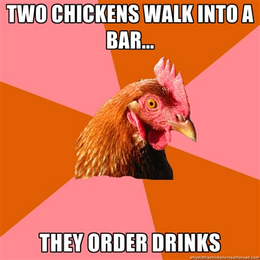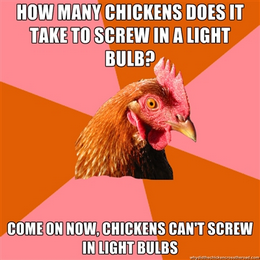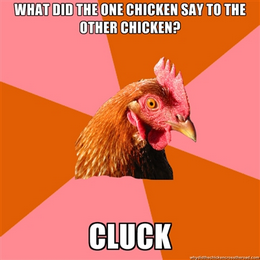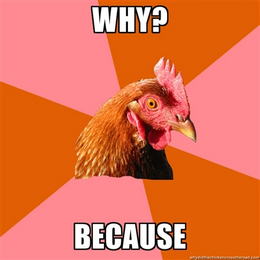 Leaving The Coop?
Take a minute to Tell a Friend! about us.
Why not bookmark this site for future visits?
Just press CTRL+D on your keyboard.
Yokes Of The Month Mailing List
Join Our Mailing List For A Monthly Feed Of Chicken Jokes!
---
Feathered Friends