Link To Us!
Anti Joke Chicken Meme Generator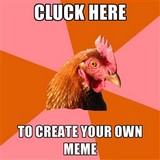 How To Recommend This Site
Howdy chicken head! Move your mouse over
our egg to share this site with friends!
Leaving The Coop?
Take a minute to Tell a Friend! about us.
Why not bookmark this site for future visits?
Just press CTRL+D on your keyboard.
Yokes Of The Month Mailing List
Join Our Mailing List For A Monthly Feed Of Chicken Jokes!
---
Feathered Friends