Link To Us!
Anti Joke Chicken Meme Generator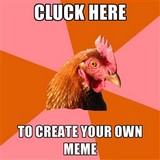 May 14 is National Chicken Dance Day!
Get ready for some party fun!
---
Anyone who's not chicken, stand in a circle facing each other.
When the music starts, hold your hands out in front of you and open and close them like a chicken beak four times.
Put your thumbs in your armpits and flap your wings four times.
Place your arms and hands like the tail feathers of a chicken and wiggle down to the floor four times.
Clap four times.
Repeat steps 1-5 four times.
After the fourth time take the hands of the people on either side of you and everyone move in a circle.
When you get dizzy, switch directions.
Repeat until the end of the music or until you fall on the floor.
If you look something like this you're doing it right!...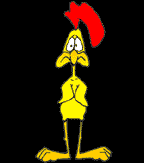 Leaving The Coop?
Take a minute to Tell a Friend! about us.
Why not bookmark this site for future visits?
Just press CTRL+D on your keyboard.
Yokes Of The Month Mailing List
Join Our Mailing List For A Monthly Feed Of Chicken Jokes!
---
Feathered Friends